Limited Edition Peli 1510 Case in Pink
6 February 2014 | Jit-Pak
Have you ever stood at baggage claim in an airport and thought that all the bags look the same? Worried about picking up the right bag, for fear of confusing it with somebody elses? Well, Peli have the solution! This limited edition Peli 1510 case comes in a vibrant pink that is sure to stand out! It has all of the protective features of a Peli 1510 Case and comes with the Peli Lifetime guarantee, but this case is only available while stocks last. For those of you that want to 'stand out from the crowd' this case will definitely do that while perfectly protecting your most breakable equipment.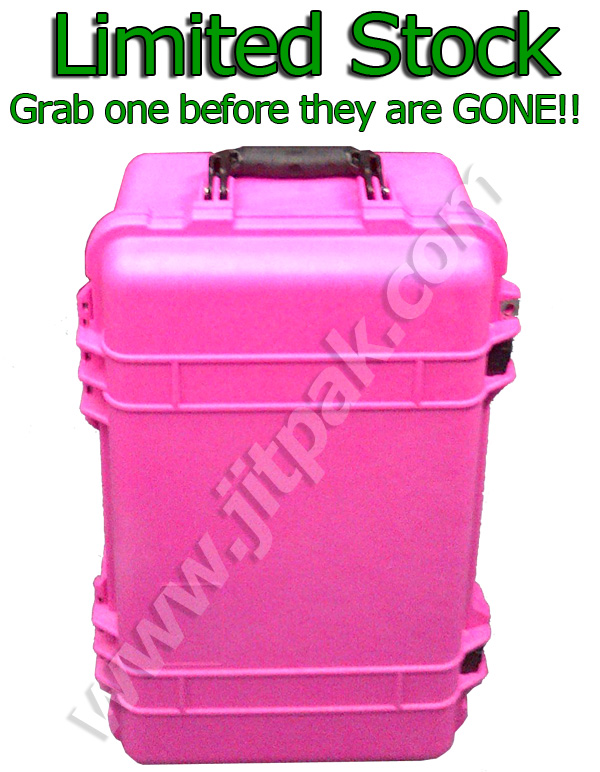 We can see some of you shaking your heads and thinking 'WOW that is TOO bright!' but actually we frequently get asked by customers which bright coloured cases we would recommend as black is too 'common' and 'boring'. While the classic black Peli case looks smart and professional, so do the less common brightly coloured cases! For example, if you are on a shoot where there are lots of people and loads of equipment, how can you tell which Peli case is yours? If you need to grab for your camera in a hurry, you'll spot your case in no time with this vibrant pink case!
The Peli 1510 case is by far our most popular case, as it meets airline restrictions for hand luggage for most airlines. This case also has a telescopic handle and wheels for ease of movement. This case continues to be the preferred choice for many people travelling with their vulnerable equipment as it is not too heavy, not too large but still has that same great protectiveness that all Peli cases have. With millions of people travelling every day, it's no surprise that most of the bags look the same! (Sneaky tip - if you are stuck in an airport queue for hours on end, your Peli case can also provide a great seat! )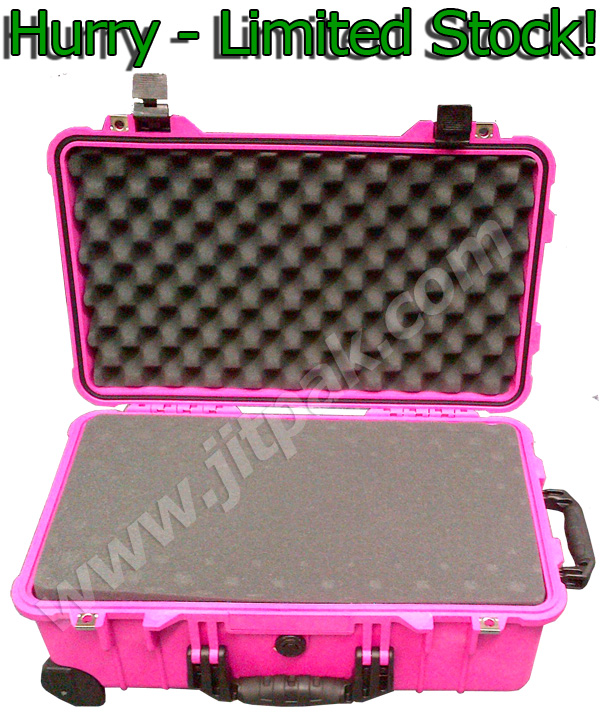 This case comes with many different options for inserts, therefore it can be used to protect all kinds of equipment. There is the standard pick n pluck foam set or the padded dividers, and there is also the option for the LOC insert or the SC insert. The LOC (Laptop Overnight Case) insert consists of a Laptop Lid Organiser and a 'clothes pouch' in the base - perfect for people on a quick business trip! The SC (Studio Case) insert consists of a Laptop Lid Organiser and Padded Dividers in the base - now you don't need separate cases to store both your laptop and your equipment, you can store them in one compact but protective case!
Get your Peli 1510 Case in Pink now from Jit-Pak! Remember - it's limited edition and only available while stocks last!