New Peli iPhone 5 Protective Cases
23 September 2013 | Jit-Pak
New from Peli - the iPhone 5 cases that offer protection "as smart as your phone and as tough as your commute"
But do they really work? And which one to choose? These are the questions our customers are asking us and as the cases are fairly new, there is not much feedback to go on. So we thought we would do a little investigating of our own, to help our customers choose the right case for their smartphone.
There are so many on the market all claiming to be 'the best protection for your iPhone', so it is hard to find one that will actually protect your phone. We specialise in Peli products, who are now offering two phone cases to suit the new iPhone 5.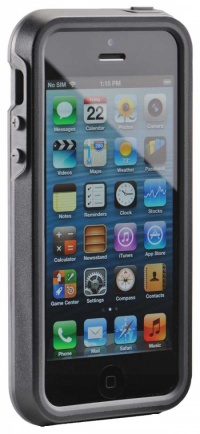 The Peli CE1150 Protector Series iPhone Case has a tough chamfer design on the outside and a soft elastomeric lining on the inside, the Peli CE1150 deflects energy and cushions your phone, preventing damage to the sensitive electronics and fragile glass surface. While this case does not cover the screen, (therefore still leaving it susceptible to getting smashed) the lining of the case is designed to act as a shock absorber, so the phone is less likely to break when dropped. The case does also wrap over the edge of the screen, which helps as most cracks start from the edge of the screen.
While feedback for this case has been positive, our customers have pointed out a few things to consider before buying the case. One is that the case is made of a hard plastic and therefore does not grip very well when placed on a hard surface. Another thing is that the hole in the case for the earphone jack is fairly small, and unless you have the standard apple earphones or some earphones with a small jack, you will need to take the phone out of the case to plug your earphones in.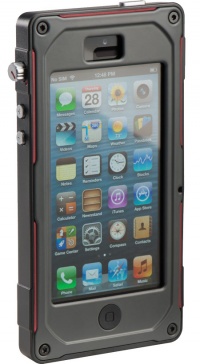 The Peli CE1180 Vault Series Phone Case claims to 'defend your fragile device better than any other phone case available'. This case has water-resistant microphone and speaker covers, optical glass on both camera areas and a perspex screen covering the glass phone screen to protect from scratches, but still allows you to use the touchcreen phone. While this case is more expensive than the Peli CE1150, it offers a higher level of protection. The Peli CE1180 iphone case is designed to make your iphone water resistant to splashes and spills, and also designed to keep out dust. This case is also lighter and slimmer than most other case designs. The liner is also designed to be shock absorbing, deflecting energy to keep your phone safer. It also covers the entire phone, creating a 'full seal'.
Feedback for this case has also been positive, with the only critique we have received being that it takes a few minutes to get the phone out of the case, it does not snap on and off easily because it is fully sealed. This, however, has not been a big issue for our customers as the phone is fully functional within the case - there are removable caps for all of the ports/earphone jacks etc and it has aluminium buttons to adjust volume and lock the phone. We have found that both cases are very protective, but the Peli CE1180 iphone case has clearly been designed to give the utmost protection to your Phone. 
We hope this short overview of the Peli iPhone 5 cases has helped to explain which case offers what level of protection. Please remember that even a Peli case cannot work miracles, you need to be careful with any smart phone, but at least the Peli iPhone 5 case range will help to cushion your phone when accidents do occur. 
                      Please note the Vault Series for the iPad Mini is not yet available for sale in the UK